Welcome to
The Healing Herb



Wolfberry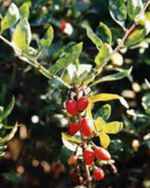 Lycium barbarum - Perennial - Culinary, Medicinal Also known as: Chinese Wolfberry, Matrimonial vine, Gou-gi-zi,
Narrow leaves and lovely 1/2in -1 in. trumpet-shaped flowers adorn this attractive native Chinese vine. Fruits, which appear in late summer or early fall are deep red and have many tiny seeds. Dried, they resemble cranberries. The leaves of the vine are often eaten as cooked salad greens and the berries are a popular snack in Canton. In China, the herb is used to strengthen muscles and bone, as a liver tonic and to improve vision. The plants grow rather like grapes (but they have no tendrils for clinging and must be tied) are hardy to -30F (-34.4C) after the first year. They perform best if grown on a fence or trellis for support in well-drained soil in full sun and grow to an average height of 10ft.
| | | |
| --- | --- | --- |
| #S158 | | Packet of approximately 25 planting seeds $9.50 |
#HP158

Wolfberry Live plant $28.95
Not available to AK,HI,CA,NV,UT,AZ,WA or outside U.S.
The Healing Herb shop offers an extensive line of dried herbs and spices, as well as plants and garden seeds, oils, lotions, ointments, liniments, soaps, candles, potpourri, and more.
Contact: TheHealingHerb@richemporium.com