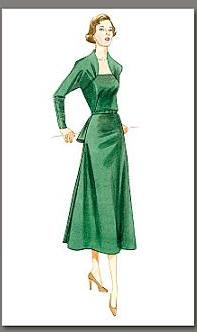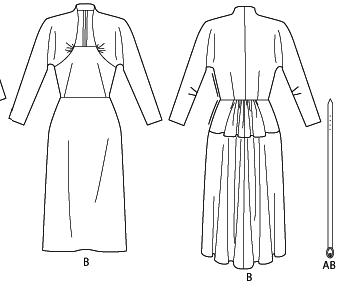 The beginning of the 50's saw changes in technology and the world. Color TV was invented, Charles Schultz introduced the "Peanuts" characters in his first comic strip. On the darker side, the Korean War and McCarthism were both launched. Americans moved to the suburbs in droves and advice columns became popular, helping the American housewife cope with everyday life.

Go for a walk, to work or shopping in this smart suedo suit with raised neckline and rear skirt.

#N204 Fitted dress has darted bodice with squared neckline with incurved sides. Skirt is slightly flared with darted back with peplum (giving the appearance of a skirt and jacket). Below knee length. This dress is constructed using a period pattern made to modern measurement.
Available in Misses/Womens sizes 6-20 and Juniors sizes 3-15
Available in Red, Blue, Black, White, Pink or Brown Cotton/Polyester fabric $200.00

(See also: Hats 1860-1960)