Welcome to
The Healing Herb



Macleaya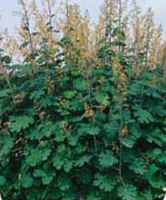 Macleaya cordata - Perennial Also known as: Plume Poppy, Bocconia
The leaves are used to treat ringworm and insect bites and can be ground up and mixed as a mosquito killing liquid. This plant is toxic and should never be used internally. The plant with creamy white petal-less blooms and attractive round-lobed foliage and makes a very attractive bedding or accent plant. Spreads by rhizomes and may become invasive if not controlled. Hardy to -40F (-40C); height: 6ft.



| | | |
| --- | --- | --- |
| #S2021 | | Packet of approximately 50 planting seeds $3.00 |
The Healing Herb shop offers an extensive line of dried herbs and spices, as well as plants and garden seeds, oils, lotions, ointments, liniments, soaps, candles, potpourri, and more.
Contact: TheHealingHerb@richemporium.com