Welcome to
The Healing Herb



Edelweiss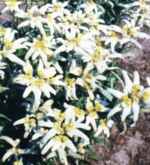 Leontopodium alpinium - Perennial Also known as: Leontopodio, Lewenwurz
Native to the alpine regions of Europe, this pretty little plant has wooly star-shaped white flowers and is low growing. Traditionally, it was concocted into a tea and used to treat diarrhea or cooked with butter and honey and used to treat respiratory ills. Recently, edelweiss was discovered to contain free radicals that slow the aging process of skin and to contain bioflavonoids that strengthen the walls of veins and capillaries. The plant prefers a well-drained rocky or sandy spot in full sun.



| | | |
| --- | --- | --- |
| #S761 | | Packet of approximately 100 planting seeds $3.50 |



#HP761

Edelweiss plant $12.00
Not available to AK,HI,CA,NV,UT,AZ,WA or outside U.S.
The Healing Herb shop offers an extensive line of dried herbs and spices, as well as plants and garden seeds, oils, lotions, ointments, liniments, soaps, candles, potpourri, and more.
Contact: TheHealingHerb@richemporium.com