Welcome to
The Healing Herb



Lion's Tail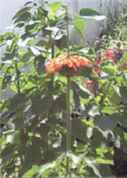 Leonotis leonorus - Annual, reseeds freely (Perennial in USDA Zones 9-10) Also called: Lion's Eat, Wild Dagga, Minaret Flower, Unfincafincane, Lebake, Umhlalampetu
This specimen plant originated in Africa and does indeed resemble a lion's tail. The plant is used to treat stomach disorders, headache, epilepsy, dysentery, and high blood pressure and snakebite (also as a charm to repel snakes). The Hottentots were known to use the plants for its euphoric effect. The plant has tall spikes bearing odd-looking whorled flowers with orange petals. This is a very tough, drought resistant plant that is a truly unique addition to the flower or herb garden. The plant prefers full sun in a well drained loam and reaches: 4-10ft in height..



| | | |
| --- | --- | --- |
| #S416 | | Packet of approximately 50 planting seeds $3.00 |
The Healing Herb shop offers an extensive line of dried herbs and spices, as well as plants and garden seeds, oils, lotions, ointments, liniments, soaps, candles, potpourri, and more.
Contact: TheHealingHerb@richemporium.com