Welcome to
The Healing Herb



Heartsease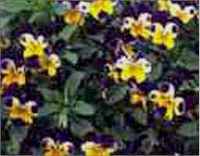 Viola tricolor - Perennial
The young leaves and flower buds of this pretty little viola can be eaten raw or cooked in salads, used as a thickener or to make tea. Leaves, stems and flowers are used as a purifying herb and to treat eczema, bronchitis, whooping cough, rheumatism and bed wetting. The name 'heartsease' is derived from the plant's use to treat heart ailments in earlier days. The leaves of the plant can be used as a substitute for litmus paper in testing for acidity. The plant has 1-1/2in. tricolor blooms in purple, yellow and white on compact plants. It is an excellent variety for rock gardens, beds and borders, as it grows to only 7in. high and does well in nearly any soil or light condition.



| | | |
| --- | --- | --- |
| #S1163 | | Packet of approximately 100 planting seeds $2.50 |



#HP1163

Heratsease Plant $12.00
Not available to AK,HI,CA,NV,UT,AZ,WA or outside U.S.
The Healing Herb shop offers an extensive line of dried herbs and spices, as well as plants and garden seeds, oils, lotions, ointments, liniments, soaps, candles, potpourri, and more.
Contact: TheHealingHerb@richemporium.com