Welcome to
The Healing Herb


Epazote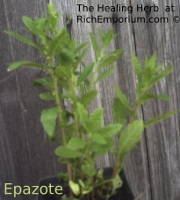 Chenopodium ambrosioides - Annual - Culinary, Medicinal Also known as Mexican Tea
Mexican cuisine uses this herb to accomplish multiple goals - as a spice for black beans and as a digestive aid. Also has been recorded as an affective vermifuge to kill intestinal worms. Full sun; plant height: 3ft.

| | | |
| --- | --- | --- |
| #S167 | | Epazote Packet of approximately 100 planting seeds $7.50 |
The Healing Herb shop offers an extensive line of dried herbs and spices, as well as plants and garden seeds, oils, lotions, ointments, liniments, soaps, candles, potpourri, and more.
Contact: TheHealingHerb@richemporium.com