Welcome to
The Healing Herb



Leopard's Bane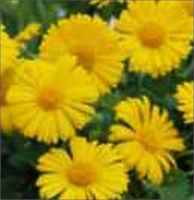 Doronicum orientale - Perennial
2-1/2in, daisy like yellow blooms with a darker yellow center bloom very early in the spring. Leaves are large and rounded. Good mass planting. There seems to be some mystery associated with the origin of the name - some say it is derived from the Arabic, some attribute it to parts of Asia, but it seems that the plant itself was considered a talisman to ward off leopards. The plant prefers full sun and grows to a height of 20in.




| | | |
| --- | --- | --- |
| #S1163 | | Packet of approximately 100 planting seeds $2.50 |
The Healing Herb shop offers an extensive line of dried herbs and spices, as well as plants and garden seeds, oils, lotions, ointments, liniments, soaps, candles, potpourri, and more.
Contact: TheHealingHerb@richemporium.com