Welcome to
The Healing Herb



Culantro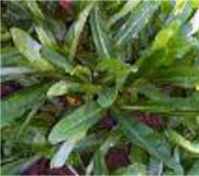 Eryngium foetidium - Biennial - Culinary, Medicinal (Also known as: Spiny Coriander, Mexican Coriander,Ngo gai, Recao)
Small, low growing plant with lance shaped leaves with the odor of coriander(cilantro). Unlike cilantro, however, the leaves dry and freeze well, retaining their flavor. Medicinally, it has been used to treat fever and flu. Plants are very easy to grow from seed and prefer shaded locations with well-drained soil and grow to a height of 8in.
| | | |
| --- | --- | --- |
| #S1343 | SOLD OUT | Packet of approximately 75 planting seeds $2.50 |
The Healing Herb shop offers an extensive line of dried herbs and spices, as well as plants and garden seeds, oils, lotions, ointments, liniments, soaps, candles, potpourri, and more.
Contact: TheHealingHerb@richemporium.com