Ft. Frontier Provisions
Supplying the Tools for A Simpler Life



Corn Cutter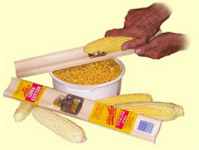 This handy kitchen tool cuts, shreds and scrapes kernels of corn off the ears, cutting smoothly, uniformly and evenly without mess or splatter. MAde of hardwood with a stainless steel blade and scraper. Easy to clean, just wash with soap and water.




| | | |
| --- | --- | --- |
| #FT522 | | Corn cutter $10.99 |
FT. FRONTIER has a full line of products and supplies for those who live a simpler life without electricity
Contact: FortFrontier@richemporium.com