Welcome to
The Healing Herb



Blackberry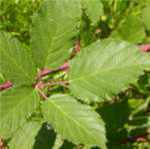 Rubus sp - Culinary, Medicinal
Blackberries are known for their vigorous growth and ability to survive almost anywhere. The blue-black fruits are used to make jellies, jams, pies and other desserts, and to produce a blue-purple dye. Roots of young plants are boiled and eaten and the leaves are used to make teas. The stems are processed and used to make twine. Blackberry tea is used to treat a variety of disorders, including diarrhea, hemorrhoids, cystitis, sore throat and mouth ulcers. The plant itself is very easy to grow, being very adaptable and producing well under most any condition, even in very acidic or alkaline soil. Used frequently in land reclamation projects as a 'pioneer' species, to ready an area for larger species. There are many blackberry cultivars, including thornless varieties, that are excellent for home growing. The shrubs grow to 6ft. in length.



| | | |
| --- | --- | --- |
| #CSX3966 | | Blackberry leaves, c/s 8oz $5.95 |
The Healing Herb shop offers an extensive line of dried herbs and spices, as well as oils, lotions, ointments, liniments, soaps, candles, potpourri, and more.
Contact: TheHealingHerb@richemporium.com