Welcome to
The Healing Herb



Balsam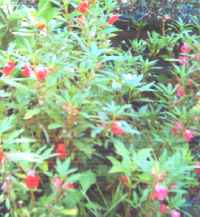 Impatiens balsamina - Annual - Culinary, Medicinal, Cosmetic Also known as: Garden Balsam, Touch-me-Not, Snapweed, Garden Balm, Ladys Slipper , Tou gu
The leaves are used as an expectorant and to treat certain cancers. The flowers are used to make an antobiotic wash to treat wounds and infections. Leaves, stems, flowers and seeds are edible raw or cooked. The plant also yields a red dye used in fingernail paint. The plants are upright, bear large snapdragon-like blooms from June to frost and have been a favorite garden flower for hundreds of years. It is called 'snapweed' because of the ripe seed pods which pop open at a touch. Repays even the harshest conditions with a bright array of color through flood, drought or damage. The plants prefer a well-drained soil in a full sun or partially shaded location and grow to a height of 3ft.





| | | |
| --- | --- | --- |
| #S952 | | Packet of approximately 40 planting seeds $3.00 |



| | | |
| --- | --- | --- |
| #SB952 | | Bulk planting seeds 4oz $10.00 |
The Healing Herb shop offers an extensive line of dried herbs and spices, as well as plants and garden seeds, oils, lotions, ointments, liniments, soaps, candles, potpourri, and more.
Contact: TheHealingHerb@richemporium.com