Welcome to
The Healing Herb

Ashwaganda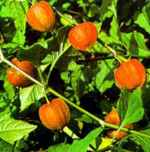 Wilthania somniferum - Perennial, Medicinal (Also known as Ajagandha, Clustered Wintercherry, Kanaje Hindi, Orovale, Samm Al Ferakh, Stychnos)
One of the most widespread tranquilizers in Ayurvedic medicine, it is also valued as a treatment for stress related disorders. The plant is a member of the nightshade family, though it does not possess poisonous qualities. It is a small shrub that bears currant-sized red fruits. The roots are commonly ground and used to treat loss of appetite and cardiac disorders. The plant makes a pretty shrub, about 2ft. in height. It prefers full sun.



| | | |
| --- | --- | --- |
| #S150 | | Packet of 100 planting seeds $5.00 |



#HP150

Plant $12.00
Not available to AK,HI,CA,NV,UT,AZ,WA or outside U.S.



| | | |
| --- | --- | --- |
| #GX150 | | Ashwaganda root ground 8oz $6.95 |
The Healing Herb shop offers an extensive line of dried herbs and spices, as well as oils, lotions, ointments, liniments, soaps, candles, potpourri, and more.
Contact: TheHealingHerb@richemporium.com