Welcome to
The Healing Herb

Apple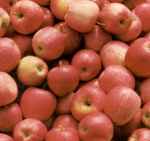 Malus sp - Common Apple; Culinary
Considered the most important of the temperate climate fruits, apples have been a favorite for cultivation for hundreds of years. It is thought that apples originated in the mountains between the Black and Caspian Seas where a multitude of wild varieties still exist and exhibit a wide array of different characteristics. Apples traveled the world over and arrived in the US with the European immigrants. They now exist in an amazing number of varieties - more being bred every day, and they are one of the easiest fruits to grow at home. Apple fruit is eaten raw, cooked, dried, and processed in a number of ways. Fruits reduce stomach acid, their pectin acts as an excellent source of fiber, and they act to clean teeth. The seeds can be pressed to produce an edible oil, the bark is used to treat fever,and the wood is valuable as an aromatic fuel or as a fine grained product used for making tool handles and canes. We offer seeds of Malus domestica, the Common Domestic Apple, and delicious dried apple slices.



| | | |
| --- | --- | --- |
| #S2037 | | Packet of 100 planting seeds $7.50 |



| | | |
| --- | --- | --- |
| #DFX2037 | | Dried Apple slices 8oz $6.20 |



| | | |
| --- | --- | --- |
| #DFZ2037 | | Dried Apple slices 1lb $12.00 |
The Healing Herb shop offers an extensive line of dried herbs and spices, as well as oils, lotions, ointments, liniments, soaps, candles, potpourri, and more.
Contact: TheHealingHerb@richemporium.com